socbres
adventures in sociology
Disturbing Images (& words)
Links are not for weak stomachs and fearful of deviance – you've been warned!
The Geography of a Recession (movie)
RSA Animate – David Harvey on the Crises of Capitalism (movie)
Aaron Huey's TED talk on Pine Ridge Reservation
One is a lonely number
USA - Number One in claiming to be Number One!
We're #1 !
Claude S. Fischer
July 21, 2010
Some fans at Olympic games have been known to complain about the chest-thumping, U-S-A! U-S-A! nationalism the American fans display. (But at least there are no complaints about American soccer hooliganism!) Our national pride appears in so many other situations as well – flag-waving parades, the national anthem before almost every gathering, and so on – that it would seem that Americans are unusually proud of their country.
It is one of the complaints some European visitors had of Americans even 200 years ago, that these upstart bumpkins were too full of themselves. (I've put a short list of sources on Europeans' views of Americans at the end of this post.) Here is a case where stereotype and social science converge: Americans today are number one when it comes to asserting that their's is the best damn country in the world.
Read more:
http://madeinamericathebook.wordpress.com/2010/07/21/were-1/#more-488
Our future in tea and Koch
<![if !vml]><![endif]> It's the Inequality, Stupid Eleven charts that explain everything that's wrong with America.
By Dave Gilson and Carolyn Perot
March/April 2011
<![if !vml]>

<![endif]>
<![if !vml]>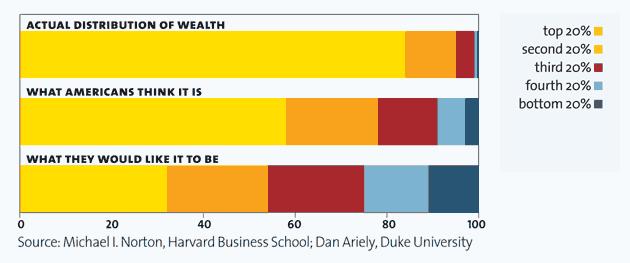 <![endif]>
Death by humanitarian aid
Alms Dealers: Can you provide humanitarian aid without facilitating conflicts?
by Philip Gourevitch
October 11, 2010
<![if !vml]>

<![endif]> <![if !vml]>

<![endif]>
London, 1969: The worldwide reaction to the Biafran war gave rise to the modern humanitarian-aid industry.
In Biafra in 1968, a generation of children was starving to death. This was a year after oil-rich Biafra had seceded from Nigeria, and, in return, Nigeria had attacked and laid siege to Biafra. Foreign correspondents in the blockaded enclave spotted the first signs of famine that spring, and by early summer there were reports that thousands of the youngest Biafrans were dying each day. Hardly anybody in the rest of the world paid attention until a reporter from the Sun, the London tabloid, visited Biafra with a photographer and encountered the wasting children: eerie, withered little wraiths. The paper ran the pictures alongside harrowing reportage for days on end. Soon, the story got picked up by newspapers all over the world. More photographers made their way to Biafra, and television crews, too. The civil war in Nigeria was the first African war to be televised. Suddenly, Biafra's hunger was one of the defining stories of the age—the graphic suffering of innocents made an inescapable appeal to conscience—and the humanitarian-aid business as we know it today came into being.
Read more http://www.newyorker.com/arts/critics/atlarge/2010/10/11/101011crat_atlarge_gourevitch#ixzz1F5TfaOkX
peeking behind the label say something cutesy snarky about globalization
Bangladesh clothes workers die in factory fire
14 December 2010 Last updated at 12:41 ET
Workers and injured colleague at a clothes factory in Ashulia, Dhaka, 14/12 Workers rushed to rescue stricken colleagues after the fire
At least 25 people have been killed by a fire that swept through a clothes factory near the Bangladeshi capital Dhaka, officials say.
At least 45 people were also hurt in the blaze, which raged for five hours before firefighters put it out.
Dhaka police said some people had been killed jumping from the 11-storey building to escape the flames.
Police sub-inspector Mostofa Chowdhury told the AFP agency that some workers had complained that emergency exits from the building were locked.
Who cares what others think!
Empathy: College Students Don't Have as Much as They Used To, Study Finds
ScienceDaily
May 29, 2010 — Today's college students are not as empathetic as college students of the 1980s and '90s, a University of Michigan study shows.
Click Here to test your level of empathy and compare how you scored to the average empathy level of college students
Made in America, the right way and the weird way
By Patrick J. Kiger
August 17, 2010
Some people see cars from Japan and stores full of Chinese-made computers and appliances and assume U.S. companies are no longer in the business of building things and selling them to the world.
Those people don't know about Lee Spring. The 92-year-old New York company produces 17,000 types of specialty springs used in everything from airline seat buckles to high-tech surgical equipment, plus made-to-order models. Lee Spring makes its precision products in U.S. factories, including a state-of-the-art facility that opened in 2008 at the historic Brooklyn Army Terminal and doubles as the company's headquarters.
US matches Indian call centre costs
By James Lamont in New Delhi and Joe Leahy in Mumbai
August 17 2010
Some outsourcing jobs are becoming as cheap to fill in the US as they are in India, according to the head of the country's largest business process outsourcing company.
Sharing the wealth among the rich and poor, American style
Some 3,000 Millionaires Claim Jobless Benefits, IRS Data Show
By Ryan J. Donmoyer
Bloomberg
Oct 1, 2010
After the economy slipped into recession in 2008, millions of Americans received unemployment benefits to make ends meet -- including almost 3,000 millionaires.
Theoretical Egalitarians: Why income distribution can't be crowd-sourced.
By Timothy Noah
Slate
Monday, Sept. 27, 2010
Why aren't the bottom 99 percent marching in the streets? One possible answer is sheer ignorance. People know we're living in a time of growing income inequality, Krugman told me, but "the ordinary person is not really aware of how big it is."
The New York Times
September 18, 2010
The Bush tax cuts of 2001 and 2003 are set to expire at the end of this year, and the fight is on to renew some or all of them. Many Democrats want to scrap future cuts for the wealthiest taxpayers — individuals whose income after deductions is more than $200,000 and couples at $250,000 or more. The Republican leaders insist that all taxpayers should get relief, even those in the highest income strata. Wealthy Americans, they say, can use their tax savings to create jobs.                 In either case, the extensions would be expensive: perhaps $2.7 trillion less for the Treasury through 2020. Here is a guide to who will get what if the cuts are extended, and who got what from the last seven years of cuts, according to an analysis by the Tax Policy Center, a nonpartisan research organization.
Gender: Measuring the thickness in the glass ceiling
For first time, Iowa girl wins a state wrestling match ... by forfeit
By Cameron Smith
Feb. 17 2011
On Thursday, a girl won a match at the most historic high school state wrestling tournament in the country, but she did so in an even more unusual and controversial way than most had imagined possible.
According to the Cedar Rapids Metro Sports Report, Des Moines Register and Associated Press, among other outlets, Cassy Herkelman, one of two girls who qualified for the Iowa state wrestling tournament, won the opening match in her Class 3-A, 112-pound classification by forfeit when her scheduled opponent, Joel Northrup, officially reported and withdrew from the bout, earning a loss but ensuring he could continue to participate in later matches at the tournament.
Northrup, a sophomore at Linn-Mar (Iowa) High, cited his personal faith as the motivating force for his forfeit. The withdrawal ensures he can finish no higher than third at the tournament, which follows his third-place finish in the 103-pound classification as a freshman.
Guys on Immodesty, Lust, and the Violence of Women's Bodies
Lisa Wade
Occidental College
From Sociological Images: Robin E. sent us to a downright fascinating set of survey results.   Administered by a Christian website, the survey questions were submitted by "Christian girls" who wanted to know what "Christian guys" think is modest.  1,600 guys then answered the survey, offering both quantitative and qualitative answers.   Why would girls care what guys, as opposed to God, think?  Because Christian guys, their future husbands, are judging them on their modesty.  Ninety-five percent of them say that modesty is an important quality in their future wife…
By NANCY FOLBRE
February 22, 2010
Changing gender roles in our society have created some rather complicated trade-offs, and that helps explain why it's hard to assess progress toward gender equality.
By Jessica Bennett, Jesse Ellison and Sarah Ball | NEWSWEEK
Published Mar 19, 2010
From the magazine issue dated Mar 29, 2010
In 1970, 46 women filed a landmark gender-discrimination case. Their employer was NEWSWEEK. Forty years later, their contemporary counterparts question how much has actually changed.
Bias Called Persistent Hurdle for Women in Sciences
By TAMAR LEWIN
Published: March 21, 2010
A report on the underrepresentation of women in science and math by the American Association of University Women, to be released Monday, found that although women have made gains, stereotypes and cultural biases still impede their success.
On Crime: Not the Usual Suspects
Sara Wakefield
Jun 1, 2010
And the award for timeliest social science research goes to… Tim Wadsworth of UC Boulder. In the wake of Arizona's passage of SB1070, the toughest state ban on illegal immigration to date, Wadsworth's research finds that cities with the largest increases in immigrants from 1990-2000 experienced the largest reductions in violent crime.
Rethinking Crime and Immigration
by Robert J. Sampson
Contexts
Winter 2008
The summer of 2007 witnessed a perfect storm of controversy over immigration to the United States. After building for months with angry debate, a widely touted immigration reform bill supported by President George W. Bush and many leaders in Congress failed decisively. Recriminations soon followed across the political spectrum. Just when it seemed media attention couldn't be greater, a human tragedy unfolded with the horrifying execution-style murders of three teenagers in Newark, N.J., attributed by authorities to illegal aliens. Presidential candidate Rep. Tom Tancredo (R–Colorado) descended on Newark to blame city leaders for encouraging illegal immigration, while Newt Gingrich declared the "war at home" against illegal immigrants was more deadly than the battlefields of Iraq. National headlines and outrage reached a feverish pitch, with Newark offering politicians a potent new symbol and a brown face to replace the infamous Willie Horton, who committed armed robbery and rape while on a weekend furlough from his life sentence to a Massachusetts prison. Another presidential candidate, former Tennessee senator Fred Thompson, seemed to capture the mood of the times at the Prescott Bush Awards Dinner: "Twelve million illegal immigrants later, we are now living in a nation that is beset by people who are suicidal maniacs and want to kill countless innocent men, women, and children around the world." Now imagine a nearly opposite, fact-based scenario. Consider that immigration—even if illegal—is associated with lower crime rates in most disadvantaged urban neighborhoods. Or that increasing immigration tracks with the broad reduction in crime the United States has witnessed since the 1990s
Economic Inequality: Puttin' on the Ritz (cracker)
22 Statistics That Prove The Middle Class Is Being Systematically Wiped Out Of Existence In America
Michael Snyder
Business Insider
Jul. 15, 2010
The 22 statistics that you are about to read prove beyond a shadow of a doubt that the middle class is being systematically wiped out of existence in America. The rich are getting richer and the poor are getting poorer at a staggering rate.  Once upon a time, the United States had the largest and most prosperous middle class in the history of the world, but now that is changing at a blinding pace. So why are we witnessing such fundamental changes?  Well, the globalism and "free trade" that our politicians and business leaders insisted would be so good for us have had some rather nasty side effects.  It turns out that they didn't tell us that the "global economy" would mean that middle class American workers would eventually have to directly compete for jobs with people on the other side of the world where there is no minimum wage and very few regulations.  The big global corporations have greatly benefited by exploiting third world labor pools over the last several decades, but middle class American workers have increasingly found things to be very tough
15 Mind-Blowing Facts About Wealth And Inequality In America
Gus Lubin |  Jul. 16, 2010, 10:46 AM
The rich are getting richer and the poor are getting poorer. Cliché, sure, but it's also more true than at any time since the Gilded Age. While politicians gloat about our "recovery," our poor are getting poorer, our average wages are still falling behind inflation, and social mobility is at an all-time low. But, yes, if you're in that top 1%, life in America is grand
by G. William Domhoff
September 2005 (updated July 2010)
This document presents details on the wealth and income distributions in the United States, and explains how we use these two distributions as power indicators. Some of the information might be a surprise to many people. The most amazing numbers on income inequality come last, showing the change in the ratio of the average CEO's paycheck to that of the average factory worker over the past 40 years.
An Unequal-Opportunity Recession
Katherine S. Newman and David Pedulla
Princeton University
June 30, 2010   |    This article appeared in the July 19, 2010 edition of The Nation.
There are long-lasting, durable consequences of entering the world of work in bad economic times. For young people joining the labor force in the midst of the Great Recession, short-term well-being may not be the only thing at stake. Their lives will likely be scarred in important, negative ways for years to come.
Study: To survive, family of four needs nearly $60,000
By Alfred Lubrano           
The Philadelphia Inquirer
May 20, 2010
To survive in Philadelphia without food stamps or other government assistance, a family of four needs to make nearly $60,000 a year - a hard-to-fathom "sticker-shock" number that shows how expensive life has become.
According to a study being released Thursday, two adults with one preschooler and one school-age child have to take in $59,501 a year to live on a bare-bones budget in the city. In 2008, the same family of four needed $53,611 to make it in Philadelphia. That's the word from the Self-Sufficiency Standard for Pennsylvania, a highly respected University of Washington analysis that comes out every two years. The problem is that nearly 62 percent of Philadelphia households take in less than $50,000 a year, according to census data analyzed by Dave Elesh, a sociologist at Temple University.
High Cost Of Renting Taking Toll In Region
Lee Howard
The Day (New London)
April 8, 2008
Derek Ellis, a 27-year-old Iraq veteran, remembers paying $395 a month for a nice apartment in North Carolina five years ago. Now he has to scrape together $889 a month to rent a two-bedroom unit at the Peachtree Apartments in Norwich. "My wife and I don't go anywhere," Ellis said in a phone interview Monday. "We're lucky to go out to dinner once a month. I haven't been to a movie in two years. At the grocery store, basically everything is generic and off-brand." Such is the life of renters in the Norwich-New London area, who must earn at least $17.81 an hour to afford a modest two-bedroom apartment, according to a report issued Monday by the Connecticut Housing Coalition. The group also pointed out that the average wage of local renters is only $14.11 an hour.
The National Low Income Housing Coalition
In Connecticut, the Fair Market Rent (FMR) for a two-bedroom apartment is $1,196. In order to afford this level of rent and utilities, without paying more than 30% of income on housing, a household must earn $3,987 monthly or $47,843 annually. Assuming a 40-hour work week, 52 weeks per year, this level of income translates into a Housing Wage of $23.00.
In Connecticut, a minimum wage worker earns an hourly wage of $8.25. In order to afford the FMR for a two-bedroom apartment, a minimum wage earner must work 112 hours per week, 52 weeks per year. Or, a household must include 2.8 minimum wage earner(s) working 40 hours per week year-round in order to make the two bedroom FMR affordable.
In Connecticut, the estimated mean (average) wage for a renter is $17.01 an hour. In order to afford the FMR for a two-bedroom apartment at this wage, a renter must work 54 hours per week, 52 weeks per year. Or, working 40 hours per week year-round, a household must include 1.4 worker(s) earning the mean renter wage in order to make the two-bedroom FMR affordable.
Monthly Supplemental Security Income (SSI) payments for an individual are $674 in Connecticut. If SSI represents an individual's sole source of income, $202 in monthly rent is affordable, while the FMR for a one-bedroom is $987.
A unit is considered affordable if it costs no more than 30% of the renter's income.
For Connecticut http://www.nlihc.org/oor/oor2010/pdf/CT.pdf
Out of Reach 2010 Complete Report
http://www.nlihc.org/oor/oor2010/oor2010pub.pdf (2.9mb file)
Family: Reinventing tradition one generation at a time
Adolescent Sexual Health in Europe and the U.S.—Why the Difference? (Updated 2009)
Advocates for Youth
Regularly since 1998, Advocates for Youth has sponsored study tours to France, Germany, and the Netherlands to explore why adolescent sexual health outcomes are more positive in these European countries than in the United States.
What Makes a Family? Children, Say Many Americans
New Research Shows Opinions on Unmarried Couples, Same-Sex Pairs Are Changing
by JOHN BERMAN and ENJOLI FRANCIS
Sept. 15, 2010
"What we find is that people are moving away from a traditional definition of family and they're moving towards a modern definition of family," said Powell. "That includes a much greater array of living arrangements. They're including a much broader group of people, broader combination of people as families."
Long Road to Adulthood Is Growing Even Longer
By PATRICIA COHEN
Published: June 11, 2010
Baby boomers have long been considered the generation that did not want to grow up, perpetual adolescents even as they become eligible for Social Security. Now, a growing body of research shows that the real Peter Pans are not the boomers, but the generations that have followed. For many, by choice or circumstance, independence no longer begins at 21.
How has the landscape changed for young adults today?
The Network on the Transitions to Adulthood, supported by the John D. and Catherine T. MacArthur Foundation, examines the changing nature of early adulthood (ages 18-34), and the policies, programs, and institutions that support young people as they move into adulthood.
Race: Somebody's peaking in color-blind America
Recy Taylor: A Symbol of Jim Crow's Forgotten Horror
After her brutal gang rape, Recy Taylor became a global symbol of American injustice and helped inspire the civil rights movement. So why has nobody heard of her today?
By: Cynthia Gordy
Posted: February 9, 2011 at 3:30 PM
<![if !vml]>

<![endif]>
Sept. 3, 1944: It's a damp evening in the Alabama black belt, nearly midnight, but services at Rock Hill Holiness Church in the small town of Abbeville have just let out. Recy Taylor, a 24-year-old sharecropper, sets out along the town's fertile peanut plantations, accompanied for the walk home by two other worshippers from the African-American congregation. Moments later, a green Chevrolet rolls by -- and their routine journey takes a horrifying turn.
Wielding knives and guns, seven white men get out of the car, according to Taylor and witnesses from a state investigation of the case. One shoves Taylor in the backseat; the rest squeeze in after her and ride off. Her panicked friends run to tell the sheriff.
After parking in a deserted grove of pecan trees, the men order the young wife and mother out at gunpoint, shouting at her to undress. Six of them rape Taylor that night. Once finished, they drive her back to the road, ordering her out again before roaring off into the darkness.
Days after the brutal attack, Taylor's story traveled through word of mouth, catching the attention of a Montgomery NAACP activist named Rosa Parks. A seasoned anti-rape crusader, who focused on the sexual assaults of black women that were commonplace in the segregated South, Parks would eventually help bring the case international notice. Despite her efforts, however, in Jim Crow-era Alabama, Taylor's assailants were never punished.
http://www.theroot.com/views/recy-taylor-symbol-jim-crow-s-forgotten-horror?page=0,0
By John Edgar Wideman
Published: October 6, 2010
AT least twice a week I ride Amtrak's high-speed Acela train from my home in New York City to my teaching job in Providence, R.I. The route passes through a region of the country populated by, statistics tell us, a significant segment of its most educated, affluent, sophisticated and enlightened citizens.
Over the last four years, excluding summers, I have conducted a casual sociological experiment in which I am both participant and observer. It's a survey I began not because I had some specific point to prove by gathering data to support it, but because I couldn't avoid becoming aware of an obvious, disquieting truth.
Almost invariably, after I have hustled aboard early and occupied one half of a vacant double seat in the usually crowded quiet car, the empty place next to me will remain empty for the entire trip.
THIS COUNTRY WAS BUILT BY WHITE MEN WITH GUNS
KEKA'S BLOG
OCTOBER 10, 2010 12:24PM
White Men With Guns--Reconstruction Redux
I saw it. But I couldn't believe it.
There I was, in a fast food drive through, behind a man whose back window decal, in small white letters, sent me a message that sent a chill down my spine—just as he'd hoped it would, no doubt. It said:
THIS COUNTRY WAS BUILT BY WHITE MEN WITH GUNS
Wellesley professor unearths a horror: Syphilis experiments in Guatemala
US apologizes for performing unethical study in 1940s
By Stephen Smith
The Boston Globe
October 2, 2010
Picking through musty files in a Pennsylvania archive, a Wellesley College professor made a heart-stopping discovery: US government scientists in the 1940s deliberately infected hundreds of Guatemalans with syphilis and gonorrhea in experiments conducted without the subjects' permission.
For African-Americans, A Virtual Depression—Why?
Orlando Patterson
Harvard University
June 30, 2010   |    This article appeared in the July 19, 2010 edition of The Nation.
The twentieth-century economic adage that when America sneezes the rest of the world catches pneumonia has a tragic domestic counterpart in the relative economic condition of African-Americans. What for white Americans is a Great Recession amounts to a virtual depression for a substantial number of African-Americans. Unemployment rates stood at 15.5 percent in May, compared with the overall national rate of 9.7 percent. For black men the situation is almost as desperate as during the nadir of the Great Depression of the 1930s: more than one in six is unemployed, compared with the national average of 9.8 percent; among black teenagers, many of whom are out of school and seeking full employment, the rate stands at a shocking 38 percent.
C.N. Le
University of Massachusetts, Amherst
Mar 30, 2010
For frequent readers of this blog, you've probably read several posts in which I discuss the anti-minority, anti-immigrant White backlash phenomenon. For those who aren't familiar with such arguments, the White backlash is basically the idea that many (as in a large number, perhaps even most, but not all) White Americans increasingly feel destabilized and even threatened by many of the following developments in American society:
    * The changing demographics of the U.S. in which non-Whites increasingly make up a larger proportion of the population and the projection that in about 35 years, Whites will no longer be a majority in the U.S.
    * The political emergence of non-Whites, best represented by the election of President Obama, and also illustrated by the growing Latino population.
    * The continuing evolution and consequences of globalization, the growing interconnections between the economies of the U.S. with other countries, and the economic rise of China and India.
    * The "normalization" of economic instability and how, even after this current recession ends, Americans will likely still be vulnerable to economic fluctuations that affect the housing market, stock market, and overall unemployment.
    * The unease about the U.S.'s eroding influence and military vitality around the world.
Taken together, these institutional developments and their negative consequences have been increasingly been felt on the individual level by many Americans. But in the case of White Americans, they have had a particularly significant impact because, as a group, their position at the top of the American racial hierarchy is increasingly being threatened — politically, economically, and socially.
That is, even though many Whites will deny their position at the top and the privileges that they directly and indirectly enjoy, ultimately very few would be willing to trade places with a person of color if given the choice. So as many Whites see these shifts and changes taking place around them, they increasingly feel confused, defensive, and angry about what is happening to "their country."
Updated List of White Backlash Examples
C.N. Le
University of Massachusetts, Amherst
Mar 30, 2010
Following up on my earlier post entitled "White Backlash: Yes, It's Real," I will use this post to maintain a continually updated list of news stories that highlight and exemplify various examples of this kind of direct and indirect anti-minority, anti-'foreigner,' and pro-'traditional American' mentality and behavior  that is increasingly on display throughout American society. The list in in reverse chronological order (most recent stories first). Also, feel free to mention any other examples I missed in the comments section at the bottom.
    * "Yup, I'm A Racist" T-Shirts for Sale (July 2010)
      Celebrate Independence Day 2010 by proudly proclaiming your racism and do your part to make racism cool.
    * U.S Hospital Fires 4 Filipina Nurses for Speaking Tagalog on Their Lunch Break (June 2010)
      Four Filipina ex-staffers of a Baltimore City hospital haven't gotten over the shock of being summarily fired from their jobs, allegedly because they spoke Pilipino during their lunch break. . . "They claimed they heard us speaking in Pilipino and that is the only basis of the termination. It wasn't because of my functions as a nurse. There were no negative write-ups, no warning before the termination," [Nurse Hachelle Hatano] added.
    * South Carolina State Senator Calls President Obama a "Raghead" (June 2010)
      Republican state Sen. Jake Knotts refers to President Obama and Nikki Haley, a Republican gubernatorial candidate of Indian descent: "We've already got a raghead in the White House, we don't need another raghead in the governor's mansion."
    * Arizona Passes Law Censoring Ethnic Studies Programs (May 2010)
      On the heels of the law that critics argue would legalize racial profiling against Latinos, Arizona's new anti-ethnic studies bill "prohibits classes that advocate ethnic solidarity, that are designed primarily for students of a particular race or that promote resentment toward a certain ethnic group."
    * Alabama Governor Candidate Declares "We Speak English" (April 2010)
      Tim James, Republican candidate for Governor of Alabama, releases a TV ad in which he declares, "This is Alabama; we speak English. If you want to live here, learn it" (you can watch the actual ad at the link above).
    * Arizona Enacts Stringent Law on Immigration (April 2010)
      Arizona's new legislation would allow police to question anyone suspected of being an unauthorized immigrant. Critics charge that it basically amounts to legally-sanctioned racial profiling and plan demonstrations, boycotts, and lawsuits to protest and block its implementation.
    * Asian American Legislator Receives Racist Threats After Questioning Palin Visit (April 2010)
      California State Legislator Leland Yee summarizes the racist threats he received from Sarah Palin supporters after questioning her planned visit to a Cal State University campus.
    * John Jay College Accused of Bias Against Noncitizens (April 2010)
      The Justice Department files a lawsuit against John Jay College of Criminal Justice, accusing it of violating provisions of immigration law by demanding extra work authorization from at least 103 individuals since 2007.
    * McDonnell's Confederate History Month Proclamation Irks Civil Rights Leaders (April 2010)
      The Governor of Virginia revives a dormant proclamation that April is "Confederate History Month," with the initial version of his proclamation omitting any mention of slavery.
    * Male Studies vs. Men's Studies (April 2010)
      A group of White male academics are trying to create a new academic discipline that highlights the ways in which males (by implication, White males) are apparently an underrepresented and oppressed group in contemporary American society.
    * Racist Fliers Distributed at UW-Oshkosh, St. Norbert College (March 2010)
      An example of how White supremacist hate groups are increasingly capitalizing on this White backlash.
    * UC Regents Sorry for Acts of Hate on Campuses (March 2010)
      Summarizing numerous racist incidents at numerous University of CA (UC) campuses, students and faculty try to get the UC Regents to see that racial ignorance and intolerance is a serious and endemic problem.
    * Meeting Space for Muslim Students at Brandeis is Vandalized (March 2010)
      On the heals of the racist incidents at the University of CA campuses, a newly renovated meeting space for Muslim students at Brandeis University is vandalized.
    * The Year in Nativism (March 2010)
      The Southern Poverty Law Center summarizes notable recent hate crimes against immigrants in 2008 and notes that nativist extremist groups have more than tripled in number, from 144 in 2007 to 309 in 2009.
    * Justice Department Fights Bias in Lending (January 2010)
      Under a new initiative from the Obama administration, the U.S. Justice Department begins targeting the rising predatory practice of "reverse redlining" aimed predominantly at minorities in which ". . . a mortgage brokerage or bank systematically singles out minority neighborhoods for loans with inferior terms like high up-front fees, high interest rates and lax underwriting practices. Because the original lender would typically resell such a loan after collecting its fees, it did not care about the risk of foreclosure."
    * New Basketball League for Whites Only (January 2010)
      The "All-American Basketball Alliance" announces plans to create a minor league basketball league in which "only players that are natural born United States citizens with both parents of Caucasian race are eligible to play in the league."
The White Anxiety Crisis
By Gregory Rodriguez
Time.com
Wednesday, Mar. 10, 2010
Two competing narratives dominate our debate about the ongoing ethnic and demographic transformation of America. The first holds that non-European immigrants — O.K., let's be honest, Mexicans — will rip apart the nation's social fabric. The second has it that the diversity of younger generations of Americans will inevitably lead to a more integrated, postracial era.
<![if !supportLineBreakNewLine]>
<![endif]>
Diversity vs. Discontents
ROBERT NEWBY
Published: August 28, 2009
<![if !supportLineBreakNewLine]>
<![endif]>
Race and Diversity in the Age of Obama
By ORLANDO PATTERSON
New York Times
Published: August 14, 2009
Barack Obama's historic victory was made possible by two great converging forces that began near the middle of the last century: the civil rights revolution and the changes engendered by the Immigration Act of 1965. The civil rights movement led to the rapid dismantling of Jim Crow and the inclusion of black Americans in politics, the military, the middle class and popular culture. The 1965 immigration act set in motion vast demographic and social changes that have altered the nation's ethno-racial landscape.
thanks for reading,
teh webmaster
<![if !supportLineBreakNewLine]>
<![endif]>